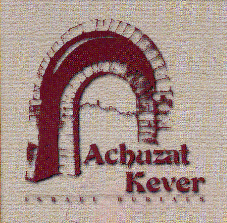 DO YOU OR YOUR LOVED ONES WANT TO BE BURIED IN ISRAEL?
Achuzat Kever, established in 2002, helps Jewish families, worldwide, bring their loved ones to their final resting place in Israel. We also arrange exhumations anywhere in the world for the purpose of transferring the mortal remains to Israel.
English speaking, we take care of everything from reserving a burial plot, transport of casket to Israel, officiating at funeral service, arrangement and 'perpetual' care of tombstone.
Full information, with pictures and plans of cemeteries available.
Reserve a burial plot anywhere in the Holy Land:

Burial in Jerusalem
Burial in Beit Shemesh
Burial in Haifa
Burial in Zfat (Sefad), etc.

Fair, affordable prices — protecting your interests in bringing the cost of funerals within reach of everyone.
Based in Israel, we deal with all local issues, making it easier for families at the time of their loss.
If required, we will arrange kaddish to be recited for the mandatory period.
Someone to turn to 24 hours a day.
Under constant Rabbinic supervision.
Perpetual Care
Until his passing we were approved by Hagaon Chaim P. Sheinberg zt"l.
We have a small number of traditional plots on
Har Hamenuchos in mixed areas available for
$24,000 including the cost of a funeral.
Contact us for details